What is AMZPromoter?
This is a digital software that helps Amazon sellers to leverage the power of external traffic and sales funnels to increase sales and revenue.
According to the AMZPromoter website, the major strength of this provider is in building landing pages and automated coupon delivery.
They also offer other Amazon seller solutions including Automated Facebook Marketing, inventory protection and automatic capture of customer details among other.
In simple words, AMZPromoter empowers sellers, like you, on Amazon to quickly make the landing page for their products. These pages are then advertised to prospective customers through different platforms like email, blogs, social media, and others.
When the prospective customers arrive on your landing page, they are prompted to trade their email address for a coupon valid for either one or all of your products and when they opt-in, they become eligible for the discount coupon. Finally, an email containing the instructions along with a coupon claiming link is sent to them.   
All this helps you to emerge as a winner in this highly competitive Amazon marketplace. It seems if you are an Amazon seller and not using any external tool, the road to success is not at all smooth.
However, AMZPromoter claims that it provides the Amazon sellers with an opportunity to target prospective customers they otherwise can't reach. This further increases the sales and drastically boosts the organic rankings of Amazon sellers.
Features of AMZPromoter
AMZPromoter Quickly Build Landing Pages
AMZPromoter's core feature is a webpage generator that can build an optimized landing page in just a few minutes. The created landing pages include branding options, product images, product descriptions, videos, FAQ, a scarcity timer, and an ad compliant footer..
AMZPromoter Automate Coupon Distribution
AMZPromoter automates coupon distribution and removes the time-consuming process of manually sending out single-use coupons. You first need to create your coupon codes in Seller Central and then upload them on AMZPromoter. You can choose to limit coupon giveaways to a single IP address and email address, and set up filters for disposable email addresses.
AMZPromoter Capture Customer Emails
AMZPromoter can capture your customers' email addresses before they buy your product on Amazon by offering them one-time coupon codes. When the "Claim Your Coupon Now" button on your landing page is clicked, a pop-up will initiate and the user will be prompted to fill out their name and email address. After they correctly fill out the required parameters, an email will be sent to their address containing a link to the coupon code.
AMZPromoter Analytics & Conversion Tracking
AMZPromoter lets you embed your landing pages with Google Analytics and Facebook Pixel scripts to track your conversions and data. You can also include custom scripts to your pages to maximize every campaign.
AMZPromoter Filtering & Security
AMZPromoter has several security options to reduce fake coupon claims and other malicious actions, such as:
Email opt-in – Users who want a discount must enter their email before they can access a coupon code.
Required email verification – Users must verify their email address by clicking a confirmation link in their inbox before they're redirected to the coupon page.
Limit coupon codes to one per email and IP address – Customers can't claim another code using a second email address on the same internet connection.
Block disposable email addresses – Customers can't use temporary email services like 10minutemail.com to claim coupons. AMZPromoter regularly updates its database of junk email addresses.
Limit the number of coupons you send each day – Sellers have complete control over how many coupons are given out in a day to maximize campaigns.
AMZPromoter Amazon MWS integration
Amazon Marketplace Web Service (MWS) is a web service API that helps sellers exchange data on orders, payments, reports, listings, and more. Integration with MWS enables high levels of selling automation and can increase selling efficiency, improve response time to customers, and reduce labor requirements.
AMZPromoter supports integration with Amazon MWS and can use the available APIs to pull data from your Seller Central account.
AMZPromoter Support for Facebook Custom Audiences
Facebook Customer Audiences is a targeted advertising service that allows you to import user email addresses for retargeting on Facebook and Instagram.
AMZPromoter supports Facebook custom audiences. Once you've set it up, it'll generate a Seller Central report of all orders made every four hours and then push the customer's name and email address to a Facebook custom audience.
Facebook can match those details to a Facebook account and communicate directly with your customers via Facebook ads. This is a very effective tactic for launching new products, cross-promoting your other products, following up for reviews, or reminding customer to make another purchase.
AMZPromoter URL builder tool
AMZPromoter has a tool for creating Super URLs, Normal URL, and Search & Buy URL, so you can quickly create links that will give you the biggest ranking boost. The tool also contains a rotating feature that allows you to rotate between different links for ranking multiple keywords. This is valuable feature for sellers who want to experiment with Amazon's algorithm to improve their product's ranking in search results.
Pros of AMZPromoter
Allows using custom code
Supports multiple Amazon marketplaces and languages
Logo-free landing pages
Offers analytics dashboard
Support for Facebook chatbot campaigns
Support for multiple email providers
Features a URL builder tool
14-day free trial
Cheap monthly starter plan
Cons of AMZPromoter
Expensive annual subscription
Limited themes for landing pages
Subscription needed to get customer support
AMZPromoter Pricing and Discount with Promo, Coupon code
AMZPromoter has three subscription plans: Starter, Essential, and Professional. 
AMZPromoter Starter: new sellers with $0 – $5k monthly revenue
Monthly Subscription: $25/month
Annual Subscription:  $19/month ($228 annually)
AMZPromoter Essential:  Early-stage sellers with $5k – $30k monthly revenue
Monthly Subscription: $49/month
Annual Subscription:  $37/month ($444 annually)
AMZPromoter Professional: Professional sellers with $30k+ monthly revenue.
Monthly Subscription: $99/month
Annual Subscription:  $74/month ($888 annually)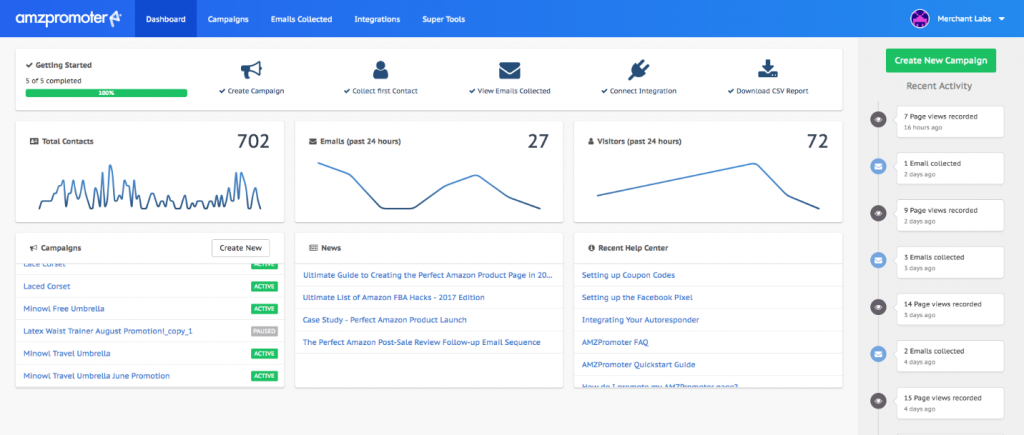 Final Thoughts
Being an Amazon seller is not enough, you should have a proper strategy to increase your sales otherwise you have to depend on Amazon. Every seller knows that dependency on Amazon can't make their business a renowned brand, they should do something extra.
After analyzing AMZPromoter, I feel that it is promising. All its features are effective and bring results. If you want to increase your sales, rank higher in Amazon search results, and get the customer's email at the same time, you should definitely go for AMZPromoter because it provides many solutions beneficial only for Amazon sellers.