What is AdWorkMedia?
AdWork Media is an innovative global affiliate network featuring powerful publisher tools including mobile-friendly Content Lockers, Link Lockers, Product Lockers, and Offer Walls.  Their 1,400+ incent offer base is comprised of top converting mobile campaigns in a variety of niches. AdWork Media's platform and tools are built on a 100% custom in-house platform that allows them to continuously improve the publisher experience. Publishers can access advanced reports, pixel placement, postback tracking, API feeds, automatic geo-redirection, customizable monetization tools, and much more.
The AdWork Media mobile affiliate network supports traffic from all mobile handsets and can target device-specific offers to your mobile traffic such as campaigns designed for Android, iOS and other platforms.  Access hundreds of mobile optimized campaigns that can support traffic from ANY device. This allows you to generate more revenue from your mobile traffic by delivering offers to the full range of devices and platforms.
How Does AdWorkMedia Work?
AdWorkMedia connects advertisers and publishers to provide monetization solutions for publishers and advertising reach for advertisers.
They work a little differently than your basic affiliate marketing network. They help publishers and advertisers make money through proprietary mobile friendly, publisher tools and tracking platforms.
Publishers earn money by placing ads on a website, social media accounts, or mobile devices. These ads take the form of ad walls, pop-ups, pop unders, mobile traffic and exit traffic. Each time a visitor completes an action on an ad, publishers earn a commission. You can target specific niches, countries, and mobile platforms such as Android and iOS.
How Do You Make Money with AdWorkMedia?
There are many different ways you earn money with AdWorkMedia. EPC (earnings per click), CTR (click through rate), CR (conversion rate). Because this is a CPA network, advertisers pay only for specific actions such as user sign ups, survey completions, or purchases.
Content Locker: One of the features of AdWorkMedia is the development of their Content Locker. This widget is added to a page on your website. When that page is visited, Content Locker takes over the user experience. The user will be required to take an action such as complete a survey or submit an email address. Once the action is completed, the page is restored back to the original page. You earn money each time a visitor completes an action.
The amount of money you earn will vary depending on the advertiser's terms. So you want to be sure that your site gets decent traffic. This will have a huge impact on how your income potential.
AdWorkMedia Features
Here are a few features you'll find at AdWorkMedia:
Free to sign up
Available worldwide
Dedicated Account Manager
Plenty of advertisers to choose from with over 2,500 offers
Referral Program: 3% commission on any referrals
Proprietary software such as split testers, banner rotators, and pixel tracking
Monthly $500 sweepstakes
AdWork Media Payment Methods
The Adwork Media pays its users through different payment channels and almost all the users around the world can find a relevant payment method to receive their payments.
The minimum payout is just $35 and they highly recommend Payoneer for low fees and to remember PayPal is one of the best payment processors in the world. Find why Payoneer is better compared to PayPal here – PayPal vs Payoneer.
AdWork Media also pay Bitcoin where this payment option is available worldwide.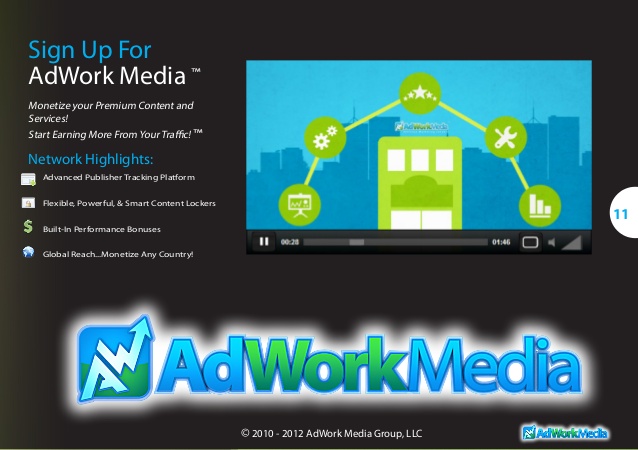 Pros and Cons of AdWork Media
AdWorkMedia Pros
Best promotional tools available in performance-based network.
Tons of high paying offers make is one of the best survey affiliate programs.
Highly professional affiliate manager with timely assistance.
A wide range of Payment options including PayPal.
Elite network reaching top 5 networks for years.
AdWorkMedia Cons
Do not approve all the applications but not too strict.
Tier-1 traffic performs better.
Campaigns expire often, hard to follow.
Offer wall needs to be updated since current Offerwall do not generate more leads.
Conclusion
In present, Adworkmedia is still #1 CPA network on affpaying.com and have more 1000 reviews in this network. They have many offers which are fit anyone are make money with content locker. The tools in Adworkmedia you can easily to use it. If you don't know how to use it and you will want to someone help you, they have good support help you with it. The variety payment of adworkmedia is good option and why how to join them.
I hope my review will useful for everyone who are looking CPA network to make money. I believe adworkmedia is good CPA network for everyone.