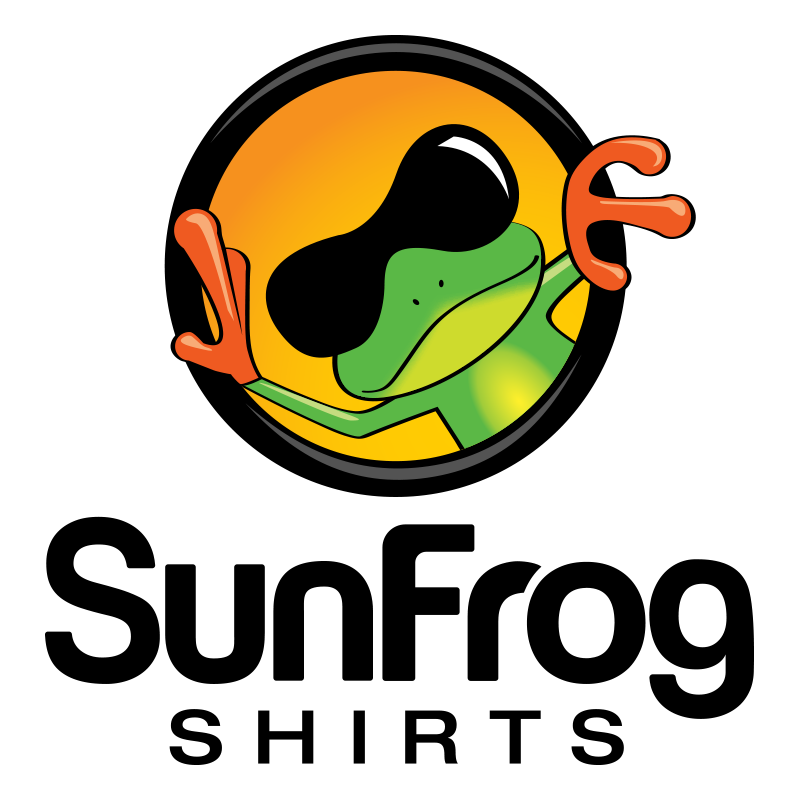 What is SunFrog?
SunFrog found online at www.sunfrog.com is an online fashion store that sells custom-print clothing including t-shirts, tops, hoodies, and jumpsuits. SunFrog, LLC opened shop in 2013 in Gaylord, Michigan thanks to founder and current Principal Josh Kent. The store also assists designers and artists sell their merchandise on the website, but we shall first review the company from a shopper's perspective.
Sunfrog services
Along with selling t-shirts to groups or individuals, Sunfrog also sells them wholesale to merchants and other companies. Some of the service options that wholesales can choose are:
Direct to Garment
Screen Printing
Embroidery
Individuals or groups who want to buy t-shirts or sell them in smaller quantities can choose one of the many designs that the company offers. They can also customize t-shirts and other apparel to sell to make money. The company has pre-printed designs in several categories from which to choose if you want to buy some t-shirts.
Creator designed T-shirts
Artists and other creators can choose from their pieces of artwork, slogans, or logos to create t-shirt designs to sell. Some creators may be able to generate income by selling their designs to SunFrog instead of creating t-shirts. 
If an artist chooses to sell their designs to the company, they make a commission on anything that is someone buys with the artist's design on it.
Creators can create t-shirt designs in two ways. Other SunFrog reviews claim sellers can choose from designs that the company already has for customizing t-shirts, or they can create and use designs they've created. They can produce one shirt, or they can start a collection by using several of their designs.
Artists can upload designs to use for making t-shirts, or they can create them using design software that the company has on its website. When someone sells t-shirts through the website, they will receive a 15 percent commission on each sale. If a creator's design sells, then they get a 10 percent commission.
A Sunfrog payout can take 10 days to two weeks because there is an approval process for orders. Once a sale is approved, the company then calculates the payout and sends it out to you. They pay their affiliates through PayPal, direct deposit to a bank account, or they can send out a physical check, which only will mean more waiting.
Starting an account on Sunfrog
Before you can go onto their site to look over the design program or other features that help with making and selling t-shirts, you need to register for an account. Getting an account set-up is a simple process. Go to the bottom of the main webpage and select "Start an Account" under "Artists & Sellers."
On this webpage, you'll find a green button about every half page that says, "Start Selling," "Start Selling Now," or "Get Started." The page also has information about selling t-shirts and other apparel with the company.
Once you click one of the green buttons, a screen appears to register an account. It asks for an email address, your name, a display name, and a password. After registering and signing in to the system, the dashboard for the account appears.
The dashboard has the statistics that show the owner how well their site is doing and if they've had any sells. The stats that appear across the screen are:
Today's Sales
Today's Traffic
Weekly Sales
Weekly Traffic
If you've just started your account with SunFrog, then the statistics page will have zeros showing beside each category. In the upper right corner are your seller number and a drop-down box with links for the dashboard, profile page, and messaging. You can also log out of the account too.
The dashboard page also tracks the top 10 trending search terms for the day and the past week. Creators can use this information to design t-shirts with a slogan or about a term that people are searching to have a better chance of selling them.
Product creation
To create a product to sell, account holders can click their seller ID number at the top of the dashboard page and then select "View Profile Page." The link takes you to a blank page with a "Create" link at the top of it. Clicking that link gives you a choice between "Choose a Template" or "Create a Design."
If you decide to choose a template, that page shows categories of shirts that you can customize with your family's last name to create a birthday, holiday, or family reunion shirts. Although several Sunfrog reviews say that creators can choose from "millions" of designs to customize, the page only shows four templates with 28 design choices.
Depending on the design, the templates let you add a name, month, or occupation on a t-shirt. Along with adding text to the shirt, you can control the type of font, its color, and how the text looks on the t-shirt by centering the text horizontally or vertically.
At the right of the page, you can also choose the color of the t-shirt and the type of SunFrog products on which to print it. The chooses include:
Short or long-sleeve t-shirts
Sweatshirts
Unisex tank tops
Guys, ladies or youth t-shirts
Hoodies
Creating designs
The creation tool allows people to add text to a product or upload their designs. There isn't a way for a creator to draw a design and add it to a shirt. As with the template, you can control some aspects of the creation on the page, except for freely drawing one with the tool.
Until this point, there are no Sunfrog fees to pay. They don't charge for an account, and they don't have any charges associated with creating a product. However, when you order products to sell, you are charged retail prices for the merchandise. Sunfrog pricing is currently:
T-shirts are $21.99 for sizes small, medium, large, and extra-large (XL)
Plus size t-shirts are $24.99 for 2XL to 5XL
Hoodies are $39.99 for S to XL and $42.99 for plus sizes up to 5XL
Unisex tank tops are $23.99 for sizes S to XL and $26.99 for 2XL
V-neck t-shirts are $25.99 for sizes S to XL and $28.99 for 2XL
Unisex long-sleeve t-shirts cost $28.99 for sizes S to XL and $31.99 for 2XL
The prices for the t-shirts are the same, whether they are guys, ladies, or youth sizes. At the "Checkout" page, the price changes slightly. For a guy's t-shirt, it will cost you $19.99 unless you wanted a fitted t-shirt, and then the price is $23.00 instead of $26.00.
There is SunFrog shipping for any orders, and it is free when you buy $75 in products. You may qualify for $10 off for buying at least $55, and there is a 25 percent discount on orders of $100.00 or more. When you add a product to the cart, you can add an address to where you want it shipped. However, there isn't a way to ship to several addresses.
Although Sunfrog reviews claim the company has an affiliate marketing program, there isn't a direct link to it on the main website or the sellers' pages. Sellers will need to search for "Sunfrog affiliate," and click on the that appears on the results page.
When you press the link for the affiliate page, the registration/login page re-appears. That page takes you back to the dashboard, but with new links on it, but no new information. While some information about the affiliate program is on a review site, if it is legitimate, sellers shouldn't have to get their information that way.
Both the ability to choose from millions of design templates and become an affiliate are mirages. The templates for customization are very limited, and there isn't any information about their affiliate program or making commissions with SunFrog. If you want to make money with affiliate marketing, then SunFrog isn't a good choice.

Sunfrog Pros
What are the features of Sunfrog? If you want to find out the pros of this platform, I've listed them out below:
Every shirt you sale gets printed and shipped. You don't have to hit a minimum sale goal to get the products printed.
The print quality of the shirt is good and all the shirts get printed and shipped from The United States.
There is a featured artist section on the homepage which is a great feature for talented artists to showcase their design and make more sales.
Sunfrog provides a great environment for both artist and non-artists to make money selling the products.
You will also get access to custom templates which will let you edit the pre-made designs and promote it.
The dashboard is easy to use and provides real-time data like traffic, sales & conversion.
Customer care is excellent. You can email or call them to get support quickly.
There is an engaging Sunfrog Community on Facebook where you can get help and support too.
You can customize every detail of your products like color, size, style, title, description, and price of the product on SunFrog.
SunFrog academy helps new sellers to learn about the platform and increase their revenue.
Sunfrog Cons
Here are some cons of SunFrog:
You need to earn at least $50 before you can withdraw it. Some people may find it hard to reach the minimum payout.
You have to do all the marketing of your product yourself. Organic search sales are hardly possible.
I feel like the product page is not optimized properly for sales compared to other platforms. But we can't complain much about it as thousands of people buy T-shirt from the platform everyday.
SunFrog Pricing and Discount with Promo, Coupon code
If you are looking for SunFrog fulfillment then you will need to contact the support team to ask for a partnership. There is also a direct way to sign up for SunFrog fulfillment, through your seller account on the website. However, it requires you to have billing information on file so they can charge you for the orders.
If you want to sign up as an artist/seller then you will get access to all the products available on the platform and their base pricing.
The best thing about SunFrog affiliate program is that they offer a flat rate on all their products. This way you can set a decent profit margin while keeping all the costs in mind.
SunFrog does not charge you any signup or subscription fees, so the service is entirely free. You only pay for the items you sell which means you never pay the money out of your pocket and only pay when a customer purchases your designed products.
Payment Methods
SunFrog prides itself upon fast payouts for their affiliates. It offers multiple different payment methods to make it easier for the affiliates to withdraw their commissions.
The payout methods available on SunFrog include PayPal, Payoneer, Direct Bank deposit, and wire transfers. The payout methods may vary depending on your location, but these are the easily available methods in multiple regions.
Free Trial
SunFrog is available for free, so there's no need for a trthey are unavailableial account as you can create a full-fledged account to try out the service. There are no upfront charges or subscription fees so you can try it out without any fear of losing money.
Shipping
SunFrog offers multiple different shipping options. Since they print all the shirts to order, that often leads to different printing times. However, the average printing times are 3-5 days for most of the products. Printing times can be different depending on the order volume and the shipping option chosen.
Here are some estimates of different delivery options.
Domestic Orders (Delivery estimates include printing times)
Economy Delivery: 6-10 Business Days
Premium Delivery: 5-7 Business Days
Express Delivery: 3-4 Business Days
International Orders
Economy Delivery: 3-5 business days printing time and delivery takes anywhere from 2 to 6 weeks depending on the destination country.
Customers will receive an email with shipping confirmation that will also include a tracking number for easier tracking of orders.
Conclusion 
SunFrog is a legit Apparel company. They provide great customer care and you can reach out to them if you have any questions/ problems. The print quality is really good and you don't have anything to lose with money back guarantee.
As an affiliate or a seller, you can make good money by selling your own design or by promoting other's design.
You can earn up to 30% if you are promoting other's design. If you are selling your own design you will get a whopping 40% per sale.
But you may find it hard to make a sell if you are not investing in the ads.
If you give a shot to the strategy I used to get free sales, you will hopefully make some sales.
But At the end of the day, It all depends on how much effort and time you put into the strategy.